Tire Care | Sand Springs Auto Care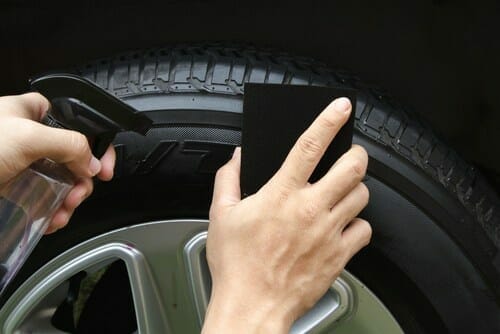 Stay safe and save money by taking care of your tires. The Sand Springs auto care pros at Same Day can help you with that.
Bad things – like flat tires – always seem to happen at the worst time. You're running late to work. Or you're headed to someplace enjoyable, like the Tulsa Remodel and Landscape show. Or you're out on the highway somewhere on a freezing day and you have no spare.
Not all flat tires can be avoided – sometimes you're simply going to run over a nail or a chunk of glass. But many flat tires can be avoided with a bit of tire care and tire maintenance. And, the good part of tire care and tire maintenance, according to the National Highway Traffic Safety Administration, is that they can improve your safety on the road and save you money by making your tires last longer.
According to the NHTSA:
Poor tire maintenance—not having enough air in your tires and failing to rotate your tires, among other maintenance requirements—can lead to a flat tire, blowout, or the tread coming off your tire.
In 2017, a total of 738 people died on the road in tire-related crashes.
Properly inflating your tires can save you as much as 11 cents per gallon on fuel. Yet only 19 percent of consumers properly inflate their tires. That means four out of five consumers are wasting money because of underinflated tires!
Additional proper tire maintenance, such as rotation, balance and alignment, can help your tires last longer, which will in turn save you money. In fact, properly inflated tires can extend the average life of a tire by 4,700 miles.
Tire maintenance includes keeping your tires properly inflated, checking to make sure the tread isn't worn down or wearing unevenly, making sure your tires are balanced, aligned and rotated.
If you need help keeping your tires maintained and you're looking for a trustworthy Sand Springs auto care pro to help, check out Same Day Auto Repair.
Same Day auto Repair is an AAA-approved auto repair facility. Same Day is the No. 1 AAA-approved auto repair service center in Oklahoma and has been for years. AAA members get a 10 percent discount on labor.
Same Day is the trusted locally owned service center for Tulsa auto care and auto repair. Same Day has six conveniently located Tulsa auto care and auto repair centers to help you – Berryhill, Sheridan, Bixby, Sand Springs, Claremore, and Southern Hills. For the best local Tulsa auto care and auto repair, call Same Day. Call today.
If you're worried about cost. Don't. Ask your Sand Springs auto care technician about Same Day's payment options that can keep you on the road for as little as $40 per month. Your Sand Springs auto care technician can explain the program in detail and walk you through the easy three-minute application process.
BIXBY AUTO CARE | BERRYHILL AUTO CARE | SAND SPRINGS AUTO CARE | TULSA AUTO CARE | CLAREMORE AUTO CARE | SAME DAY AUTO REPAIR
#SandSpringsAutoCare #BerryhillAutoCare #BixbyAutoCare #TulsaAutoCare #ClaremoreAutoCare #SameDayAutoRepair