Maintenance | Sand Springs Auto Care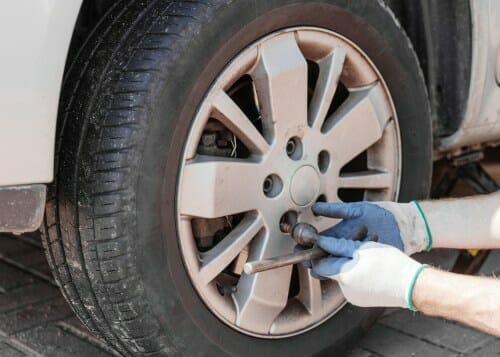 If you're looking for a trusted Sand Springs auto care pro to help keep your tires in good shape, check with the Sand Springs auto care and tire experts at Same Day.
You were headed out to the ax throwing event when you were delayed by a flat tire. This isn't the first time it's happened, and you have to admit you're at fault because you ignored your dash light saying your tires needed air. But, one reason you ignored the light is because it seems to illuminate frequently.
If your tire pressure warning light comes on frequently, it could be telling you that one or more of your tires has a slow leak. But it could also be reacting to a change in temperature – a cold snap can make it seem as if one or more tires needs air.
Your best bet at keeping that light from coming on is to regularly maintain your tires, says the nonprofit Car Care Council. The council recommends either you check – or you have a professional check – the inflation regularly. But that's not the only key to good tire maintenance.
The council says you should also have your tires regularly rotated and visually inspect your tires regularly but especially after hitting a pothole, curb, or other object.
"Regular visual inspections will often identify any potential problems before they result in an accident," the council says. "It's also a good idea to have the tires inspected by a professional before any long road trips to ensure there are no obvious out-of-service conditions that must be addressed."
If you don't have a regular Sand Springs auto care technician you can trust to help you maintain your tires and engine, then call the Sand Springs auto care specialists at Same Day Auto Repair for help.
Same Day auto Repair is an AAA-approved auto repair facility. Same Day is the No. 1 AAA-approved auto repair service center in Oklahoma and has been for years. AAA members get a 10 percent discount on labor.
Same Day is the trusted locally owned service center for Tulsa auto care and auto repair. Same Day has six conveniently located Tulsa auto care and auto repair centers to help you – Berryhill, Sheridan, Bixby, Sand Springs, Claremore, and Southern Hills. For the best local Tulsa auto care and auto repair, call Same Day. Call today.
If you're worried about cost. Don't. Ask your Sand Springs auto care technician about Same Day's payment options that can keep you on the road for as little as $40 per month. Your Sand Springs auto care technician can explain the program in detail and walk you through the easy three-minute application process.
BIXBY AUTO CARE | BERRYHILL AUTO CARE | SAND SPRINGS AUTO CARE | TULSA AUTO CARE | CLAREMORE AUTO CARE | SAME DAY AUTO REPAIR
#SandSpringsAutoCare #BerryhillAutoCare #BixbyAutoCare #TulsaAutoCare #ClaremoreAutoCare #SameDayAutoRepair