A Bouncy Ride | Bixby Auto Care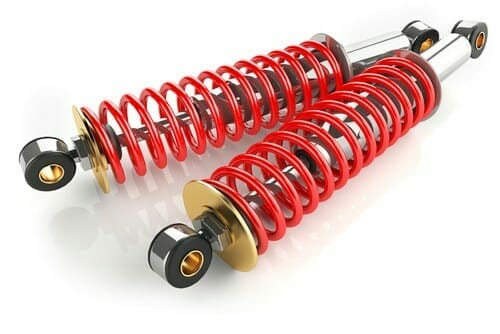 If your ride has gotten bouncy and your tires are wearing oddly, then it's time to have the Bixby auto care pros at Same Day take a look at your car's suspension.
You were on your way back from the flea market when you hit a bad patch of road and your car bounced so much you felt as if your eyeballs were jiggling. That's a lot more bounce than you're used to feeling even when you're driving over rough roads.
It sounds as if you might have a problem with your suspension. One of the prime signs that your coil springs and/or shocks need replacing is excessive vehicle bounce, according to itstillruns.com. Other signs include vehicle sagging, excessive vehicle noise and vehicle sway, and/or abnormal wear and tear on your tires.
"In addition to stabilizing a vehicle's frame, coil springs and shocks help to keep a vehicle's tires planted firmly on the ground at the correct angles," itstullruns.com says. "Bad coil springs and shocks can allow vehicle tires to become misaligned and/or track abnormally, both of which can cause abnormal tire wear."
It's definitely time for you to take your car to a Bixby auto care technician to have them examine and repair your shocks and/or springs.
If you don't have a Bixby auto care specialist you can trust, then call the certified Bixby auto care experts at Same Day Auto Repair.
Same Day is an AAA-approved auto repair facility. Same Day is the No. 1 AAA-approved auto repair service center in Oklahoma and has been for years. AAA members get a 10 percent discount on labor.
Same Day is the trusted locally owned service center for Tulsa auto care and auto repair. Same Day has six conveniently located Tulsa auto care and auto repair centers to help you – Berryhill, Sheridan, Bixby, Sand Springs, Claremore, and Southern Hills. For the best local Tulsa auto care and auto repair, call Same Day. Call today.
If you're worried about cost. Don't. Ask your Bixby auto care technician about Same Day's payment options that can keep you on the road for as little as $40 per month. Your Sand Springs auto care technician can explain the program in detail and walk you through the easy three-minute application process.
BIXBY AUTO CARE | BERRYHILL AUTO CARE | SAND SPRINGS AUTO CARE | TULSA AUTO CARE | CLAREMORE AUTO CARE | SAME DAY AUTO REPAIR
#SandSpringsAutoCare #BerryhillAutoCare #BixbyAutoCare #TulsaAutoCare #ClaremoreAutoCare #SameDayAutoRepair